01763 261 999
Grit Bin Hire
We are able to provide you with Grit Bins and de-icing salt. we will deliver and fill your bin ready for the winter months. We will also service and re-fill the bins over the winter to make sure you are never out of salt supply.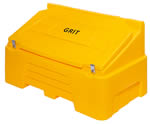 This is an example of one of our grit bins we provide. These bins are available to hire from 1st November through to 1st March (longer upon request). They are removed at the end of the hire period to leave your area clear.
Contact us for more details and to discuss your requirements...
Tel: 01763 261999    Mob: 07968 365833
Email: ice@cambridgegritting.co.uk